MUTANT MASS is a revolutionary, top secret experimental muscle mass gainer that delivers extreme, abnormal mass building results. If you're destroying the iron in the gym to build massive, MUTANT-like proportions of skin stretching muscle and inhuman strength then MUTANT MASS is a must for your mass building arsenal. Every powerful, military strength serving of MUTANT MASS delivers a potent dose of anabolic macronutrients — including exclusive MUTANT PRO® —
to shift your body into a state of virtually limitless growth.
Assembled for absurd gains in muscle mass

• Over 1,000 growth-invoking calories per serving

• Full experimental dose of protein, clean carbs & critical fats

• Addictive tasting formula that mixes easily

• Available in 6.8kg and 2.27kg
PVL Mutant Mass is the ultimate lean gainer you've been waiting for! Mutant Mass is a serious calorie-dense formula, designed with only hard working athletes in mind, who demand power, absolute size and all out strength. If you are serious about gaining slabs of lean muscle mass, faster than ever, then Mutant Mass is the answer.
Mutant Mass was developed following 2 years of research and is based on sound, proven science. More importantly though, the finished Mutant Mass formula was also tested in the gym, where it was put through its paces by real life bodybuilders and strength athletes.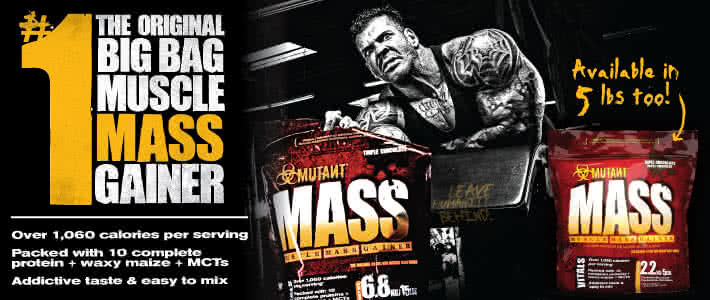 Mutant Mass is all about gaining rock hard muscle – and lots of it! Building muscle requires the right protein mix to expand the muscle tissue and repair it fast. The protein must also be spared from being wasted for the body's energy needs, while the muscle also requires massive infusions of clean calories to replace glycogen used up during training. Digestion, absorption, triggering calorie up take and manipulating protein sequencing – the Mutant Mass formula takes all that into account and hits a home run like nothing else you've ever tried!
WHAT YOU GET 
Iso-Stack 10 (The Ultimate Protein Mix) -PVL's award winning blend of 10 superior, muscle building proteins – no wimp proteins like soy, wheat or other veggie protein – just pure, high BV/PER amino acid proteins proven to build lean tissue. Clean Carb (Lower GI Carbohydrate Mix) – Features a 3-fiber blend of low sugar carbs, stacked with an exclusive high molecular weight, sugar free Vextrago for vastly improved glycogen loading. Lipotherm – Delivers essential fatty acids, fat burning CLA and high energy lipothermic MCT's, all with zero trans fat for stimulating faster gains than other weight gainers. Intrasorb (Calorie uptake Augmentation Mix) – The superior muscle activation proprietary matrix – 5 ingredients that trigger massive absorption, fuller utilization and complete muscle uptake of these powerful high calorie nutrients, unleashing faster gains in lean body mass than you ever thought possible.
SUPPLEMENT FACT

Serving Information
Container Size: 260g

Serving Size: 260g
Servings Per Container: 1

Container Size: 2.2kg

Serving Size: 260g
Servings Per Container: 8

Container Size: 6.8kg

Serving Size: 260g
Servings Per Container: 26
Nutritional Information Per Serving
Energy: 1,060 kcal
Protein: 52 g
Total Carbohydrates: 176 g

Sugars: 34 g
Dietary Fiber: 8 g

Fat: 18 g

Saturates: 10 g
Trans Fat: 0.2 g

Cholesterol: 50 mg
Sodium: 320 mg
Potassium: 1640 mg
INGREDIENTS 
Waxy Maize, Maltodextrin, Fructose, Dextrose, Corn Solids, Whey Protein Concentrate and Protein Matrix [Whey Protein Concentrates, Micellar Casein, Milk Protein concentrate, Calcium Caseinate, Egg White Albumen Protein, Whey Protein Isolate, Milk Protein Isolate, Whey Protein Hydrolysate], Defatted Soybean [fibre source], Cocoa, Fractionated Coconut Oil [supplies MCTs (Medium Chain Triglycerides)], Waxy Barley Starch, Corn Syrup Solids, Flax Seed Powder, Glutamine Peptides [from Wheat], Sodium Caseinate, Milk Fat Solids, Guar Gum, Vanillin, Inulin [Fibre source from Chicory], Powdered Sunflower Seed Oil [supplies CLA], Colostrum, Inositol, Cinnamon Extract, Sucralose, Mono & Diglycerides, Dipotassium Phosphate, Potassium Citrate, Soya Lecithin.
RECOMMENDED USE
ƒƒ
Shake or mix 4 scoops of MUTANT MASS with 480-960 ml (16-32 fl oz) of water or milk. You can also enjoy 2 or even 3 shakes a day. Our favorite way is to drink one shake first thing in the morning, a second immediately after training; or simply enjoy your shakes whenever you want an extra shot of protein.